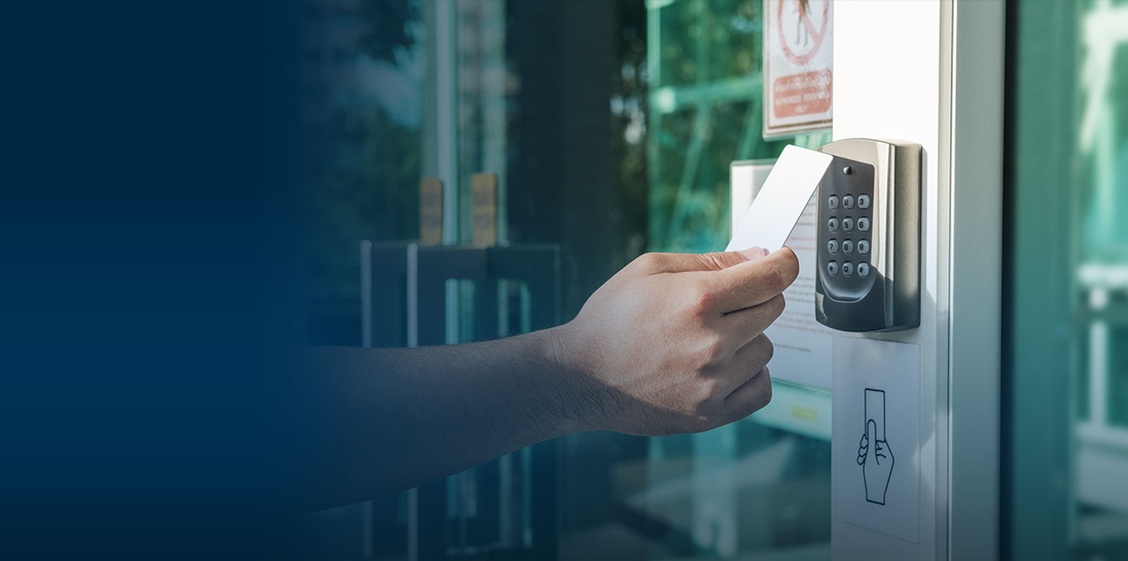 Are you looking to protect your home or building with
the most reliable home security services?
Home security is essential. You deserve to feel safe and secure in your own home. With our help, you can have the peace of mind that comes with knowing that you're taking all the necessary precautions to protect yourself and your loved ones. We provide the best security solutions possible, so you can rest easy knowing your family and belongings are protected.
If you are worried about making the safety system of your home or office accessible to all people regardless of their ability, we have created a guide that provides examples of inclusive security, mobility and surveillance options. Our solutions are tailored for individuals and families with the need for video surveillance and security systems. It's packed with information on the latest security technologies and how to use them to protect your family. Plus, it's written by experts to ensure you're getting the best advice possible. So what are you waiting for?
Click here to download our free guide now!
Complete Supply and Installation
Automatic Doors & Security Installation With Special Support For Handicapped People

At Integral Konnect, we are inclined and committed to providing a vast array of ease-of-access and security services with the added benefit of handicap functionality. Since 2017 we have adamantly designed, supplied, and installed our services to a significant number of companies and housing projects. Our expertise emphasizes on the following projects:

Automatic Doors
Barrier-free Washrooms
Security Cameras
Access Control Systems
Video Intercoms

Striving to keep you safe and protected 24/7

Trusted, Reliable Automation &

Security Services:

We know words aren't adequate proof of the excellency of our work. Hence, we are honored to provide positive acclaim and approval across all our clients.

Since our debut in 2017, our installation and services have been availed and trusted by many clients and companies such as McDonald's, Wendy's, Tim Hortons, Arby's, and Burger King. Our cutting-edge Surveillance Systems have implemented uncompromised safety and security with multiple high-quality cameras in Townships and companies such as Erin, Georgian Bay, Brose Canada, OLON Industries, and the Royal Canadian Legion.

Uncompromised security surveillance and protection

Avail our Video Surveillance Systems

and protect your homes and buildings

against unauthorized intruders 24/7:

Comprehensive Troubleshooting

Our surveillance systems are actively diagnosed, repaired, and replaced in the event of malfunction to ensure round -the-clock security and video foresight.

Active Customer Support

We actively provide dedicated support and assistance to ensure every trouble and worry of our customers are thoroughly addressed and relieved.

Individual Approach

At Integral Konnect, every customer or company is individually consulted and assisted regardless of how big or small the person or corporation is.

Modern Equipment

We lead our services with only the best equipment and technologies to earn the trust of reliability among all clients.

Our Services

The Most Reliable Home Security Services

50+

Team Workers

600+

Our Clients

34+

City Offices

95+

Our Awards
Services Locations
Ajax
Cambridge
Keswick
Niagara Falls
Scarborough
Aurora
Clarington
King City
North York
Stouffville
Barrie
Cobourg
Kingston
Oakville
Toronto
Bolton
Collingwood
Kitchener
Orangeville
Toronto downtown
Bowmanville
East Gwillimbury
London
Orillia
Wasaga
Bradford West Gwillimbury
Etobicoke
Markham
Oshawa
Waterloo
Brampton
Georgina
Midland
Paris
Whitby
Brant
Guelph
Milton
Perth
Windsor
Brantford
Halton Hills
Mississauga
Peterborough
Woodbridge
Burlington
Hamilton
Newcastle
Port Colborne
Caledon
Innisfil
Newmarket
Richmond Hill